Ski Extras
Ski Hire
As we are truly a tailor made tour operator, Ski Bespoke can help advise you on your ski extras, from ski hire, ski school to non-ski activities.  Please speak to one of our specialists to discuss your individual requirements. When booking ski hire we will require personal details such as level of skier/boarder, heights and weights etc.
Please click on the link below if you wish to view the full range of ski hire available.
We are on hand to help advise you if you need it, please do not hesitate to contact us on 01243 200 202.
Please click here to book your ski hire with Skiset
Tried and tested by our clients- thanks Lesley…wow your ski hire booking is great! Thanks!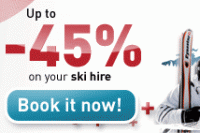 Airport Parking and Hotels
If you require airport parking or other airport services the link below will be able to help you. We have an affiliation with Holiday Extras which entitles our clients to excellent rates for the following options:
Airport Hotels
Airport Hotels & Parking
Airport Parking
Airport Lounges
Holiday Insurance

Luggage Forward
Luggage Forward is a door-to-door luggage and sports equipment delivery service we can arrange for you which is easy, convenient and guaranteed to arrive safely to over 200 destinations worldwide.

Testimonial
Sign up for our Newsletter
Enter your email address to receive Ski Bespoke News and Updates.