The town of Spittal an der Drau in the region of Carinthia, deep in the  Austrian Alps, has recently hosted the "Champ or Cramp" vertical skiing event.
This unique "Champ or Cramp" competition offers the ultimate challenge to athlete and avid skier alike. Instead of allowing gravity to be your ally, this competition seeks to turn the tables and become a foe to all who enter – trying to ski UP the longest black run in the Alps!
At a stretch of 8.5 km and with an altitude difference of 1,600 metres, this run would make a "Herminator" out of any skier and will definitely make you enjoy the Gluehwein at the end…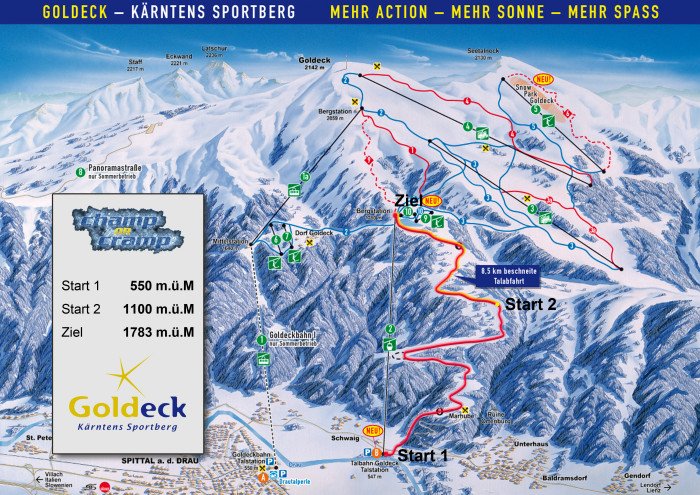 Apart from the over 200 athletes hailing from all parts of Austria and the neighbouring states, more than 1,000 visitors were welcomed in the last few years at the competitions and the associated events of the master programme.
Naturally, this event is hosted over the weekend during the peak of the main winter season, which is when more than another 2,500 ski lovers come to the region of Goldeck.
With top sports channels, DJ´s, award ceremonies and much more make up an exciting day at "Goldeck"– the sports mountain in Carinthia.
This year's event was won by Slovenian skier Nejc Kuhar, who crossed the finishing line in a time of 50 minutes and 36 seconds
For more information, or to enter for next year, check out the website here .
Champ or Cramp?  The choice is yours!