We ran a competition to win a ski holiday with local magazine ETC. Our lucky winner Abbi Penn kindly wrote a blog about her FIRST ski experience.
Crans Montana: Chocolate, Cheese and Skis – Abbi Penn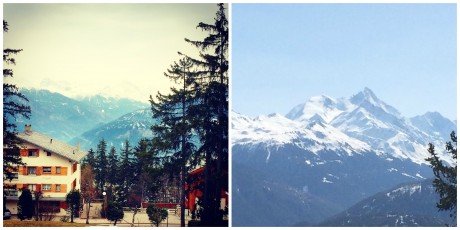 Where do you send someone with no balance, a love of food and the ability to be cold in the height of summer?
To the mountains of Switzerland of course!
Luck
You know when you see a competition and instantly think oh I'd love to do that, but I'll never win? You still enter, but people don't really win those things do they? Well, I recently won a skiing holiday to Crans Montana, Switzerland with Etc Magazine and Ski Bespoke – not unaccustomed to the occasional prank call from my brother, no, I didn't believe them when I heard either.
As I experienced a wide range of emotions from excitement all the way through to sheer terror, I eagerly began to plan the trip, booking holiday and calling my friend (buying ski jackets could wait until 24 hours before I flew…obviously!).
Ski Bespoke were incredible and Lesley was quick to get in touch, organising everything for my friend and I to head over to Switzerland for a four-day break – even detailed instructions for using the trains and transfers (thank goodness!).
The Journey
Swiss Air carried us from London Heathrow to Geneva (tip: fly them just for the free Swiss chocolate that they hand out) and the train station was practically on the runway. We boarded a train and settled in to watch the incredible views of Lake Geneva slide past the window feeling incredibly continental with our fizzy strawberry laces.
After a couple of hours (and a quick glimpse of Mont Blanc) we arrived at Sierre, from where we took the funicular up to our final destination.
Scenery
When you head into the mountains, you have a vague idea of what to expect. Crans Montana takes that idea and makes that look like a stick man sketch of a Disney princess. The views were breath-taking. It took everything I had not to source a long dress, cut my hair and burst into a rousing rendition of the hills are alive with the sound music… as performed by a bag of strangled cats.
Now you can see why, according to Wikipedia, Roger Moore and Michel Roux have homes there and Sophia Loren used to have an apartment above the golf course, right?
Accommodation
You know the images of Switzerland showing snow, chocolate and wooden lodges capped in snow? Well that's pretty much where we stayed. We checked in at the Helvetia Intergolf Apart-Hotel, not far from the slopes or the station.
The hotel staff were wonderful and very welcoming. We were picked up from the station, swiftly checked in with a brief tour and then we got to the room which was perfect – modern, clean and spacious with floor-to-ceiling windows, a balcony and a stunning view! Bags dropped, we set off to hire our gear which they delivered to the hotel for us (each room has a ski locker allocated next to reception) and having had a long day, we found a bar to chill with an Aperol Spritz and let the realisation that we were in Switzerland wash over us.
Skiing
The trip to Crans Montana was my first trip to Switzerland and my first ever time skiing – I had given snowboarding a go previously, but the last trip ended in a broken elbow, so my hopes were high that maybe I was a better skier. That didn't stop me making sure I was insured to the eyeballs though.
The next day it was time. Frightened, shaking and on the verge of a nervous breakdown, I fumbled my skis into the cable car (those were designed to separate the wheat from the chaff!) and headed up to the kids' area.
Remember that scene with Bambi on ice, legs going everywhere before he ends in a big heap? I couldn't get that out of my head as I gingerly slid my feet back and forth, slowing carving my way down towards the mountain in the manner of a hacksaw rather than forward. And in the scenario where I was Bambi, my teacher, Ricardo, was my Thumper, trying to prop me up. Credit to him, he did manage to talk me into going higher and higher on the training slope.
The snow was a bit icy on day one and the locals said that the winter for Crans Montana has been a bit shorter this year with not as much fresh snow (peak time to go is Jan-Feb apparently) and it seems that icy slush isn't good to learn on. But the heavens smiled on us and on day two the snow fell overnight to create a much more learner-friendly layer of powder.
We spent most of our time going up and down the training slope painfully slowly as I started to get to grips with snow ploughs and the idea that everyone else on the slope wasn't out to get me (the slopes appear to be overrun with 4-year-old pole-less ski prodigies intent on wiping out the ineffective skiers). That didn't mean we couldn't dream big though and on the second day we got the cable car up to the top of a black run…
…where we made a snowman (and tried not to sing Do You Want To Build a Snowman?).
Once we had exhausted ourselves on the slopes for the day, we had a quick bite to eat on the mountain before heading back to the hotel and spending lazy afternoons in the pool and sauna with amazing views out the window to accompany us. Yes, it's a hard life.
Food
Kate Moss once said "nothing tastes as good as skinny feels" which makes me wonder: has Kate ever been to Switzerland?
Any country who boasts melted cheese as one of their culinary masterpieces has my vote and my allegiance. Within 6 hours of arriving in Switzerland we had an Aperol Spritz in hand and a pot of fondue bubbling away in front of us.
But cheese isn't the only thing on the menu. As an incentive to keep skiing, my friend told me that night two would feature a Chateaubriand (aka the best steak you'll ever eat) accompanied by a bottle of the local wine – she knows me well! I was impressed that the wine came in bottle sizes that two people can drink without feeling like alcoholics.
Now, given our penchant for all things Italian and our proximity to the border, night three was dedicated to the nation that gave us pizza, pasta and Parmigiano. We headed to Le Farinet in town and had an incredible three course meal that was topped off with a Limoncello (it was definitely good quality as it didn't taste like antifreeze).
Results
When we left to go to Switzerland, we went feeling a bit frazzled, scared and unsure what was to come (hospital visits?) and came back totally relaxed and absolutely delighted (with no broken bones). Skiing gives you a warm buzz of exhaustion that makes you deliriously happy and now that the bruises from the boots have faded I can safely say that I'll be going back again, but first I need to hit the gym up to work out all these muscles I've found that I didn't know I had…