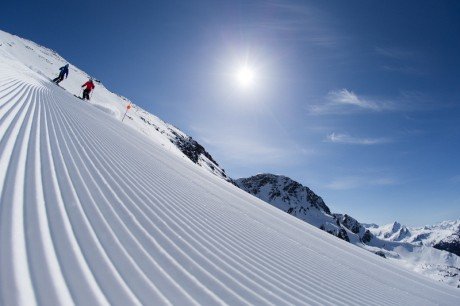 February and March were incredible months for skiers and riders at Whistler Blackcomb, with a snowfall total of 508cm. March was the snowiest month of the season and Whistler's third snowiest March in 10 years. The last week alone brought a storm cycle that deposited 91cm of new snow. Year to date snowfall is 817cm (322 inches or close to 27 feet). As a result of March's amazing snow and fantastic conditions on the mountains, Whistler Blackcomb is extending spring skiing and riding on Blackcomb Mountain until May 26, 2014.
"With a current base of 278cm and more snow in the forecast, we're once again lucky enough to boast one of the longest ski seasons in North America," says Stuart Rempel, Senior VP of Marketing and Sales at Whistler Blackcomb. "Spring is just an awesome time to be in Whistler. We have so many exciting events around the corner, such as the legendary World Ski and Snowboard Festival and the first annual GO Fest, Whistler's Great Outdoors Festival. Extending our ski and snowboard season ensures all of our guests can have the best possible spring experience here at Whistler Blackcomb."
Whistler Mountain operations will close on April 21 but Blackcomb Mountain's expansive slopes and dialed in terrain parks will be open for skiing and riding until May 26, 2014.
Experience Whistler This Spring
With longer days, warmer temperatures and lots of sun-soaked patios for après, Whistler Blackcomb is an absolute must for spring skiing. Springtime in Whistler is also well-known for being fully loaded with lots of events and activities including the World Ski and Snowboard Festival (WSSF), falling partly over Easter weekend, and GO Fest, Whistler's Great Outdoors Festival taking place during the Victoria Day Long Weekend in May.
World Ski and Snowboard Festival (WSSF), April 11 to 20, 2014
The legendary WSSF is back in Whistler and better than ever, featuring sport events such as The Shred Show, a World Snowboard Tour 5-Star event, and the World Skiing Invitational/ Association of Freeskiing Professionals (AFP) World Cup Championship. WSSF also boasts incredible arts events and concerts, including Intersection, the OLYMPUS 72 Hour Filmmaker Showdown and OLYMPUS Pro Photographer Showdown, and free outdoor concerts including De La Soul, The Original Wailers and more. More information on WSSF can be found at whistlerblackcomb.com/festival.
GO Fest – Whistler's Great Outdoors Festival, May 16 to 19, 2014
The first annual GO Fest brings together all the amazing and diverse aspects of Whistler's great outdoors, featuring events such as the Green River Challenge, the Great Snow-Earth-Water Race and the Great Slush Cup on Blackcomb Mountain. Award-winning rock and roll band The Sheepdogs will kick off the festival with a free concert in the heart of Whistler Village. More information on GO Fest can be found at http://www.greatoutdoorsfest.com/.
Photo Credit: Paul Morrison, Location: Whistler Blackcomb, British Columbia