Swiss Cow Competition
Ski Bespoke has a family of Swiss cows (they are wooden not real unfortunately). Our latest member to the herd sadly does not have a name..
So we would like you to name our newest arrival!
To see how she is settling in, please follow them on facebook.
The lucky winner will win a £100 voucher for Snow +Rock!
To enter the competition, please go to our facebook wall and leave a comment telling us which name best suits our cow.
The competition ends 18 January.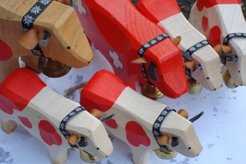 Don't forget you can also follow Ski Bespoke on Twitter @ SkiBespoke