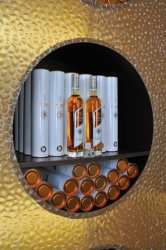 While Ontario and British Columbia have their Icewines – sweet, luscious nectars squeezed from frozen grapes – Québec has turned the province's sometimes harsh climate from a curse into a blessing and created ice cider, a tart alcoholic concoction coaxed from frozen apples.
Since the first ice ciders became available in 1996 they've snatched international medals and sold out in more than 30 countries. These days about 50 producers, mostly family and boutique enterprises in the Eastern Townships outside of Montréal, have made ice cider the fastest-growing sector of Quebec's beverage industry.
To celebrate the success of "apple icewine," 2012 sees the launch of the 5th annual Mondial du Cidre de Glace – the World Ice Cider Festival – held between 10th – 12th February.
Amid the orchards of the agricultural community of Rougemont, 50 km (30 miles) east of Montréal, more than 25 producers will compete and offer tastings.
Among them are the much-awarded Domaine Pinnacle whose ice ciders were featured at the 2010 Shanghai Expo, and scrumptious offerings like icy Neige from La Face Cachée de la Pomme. Sip and sample the spectrum of ice ciders from fresh sparkling aperitifs to creamy Bailey's-like treats paired up with local delicacies from chocolate to cheeses.
With return flights out to Montreal coming in much cheaper than their neighbours in  the west coast, this is yet another reason to visit Québec !
You can even take in some skiing at the same time…